Welcome to my little blog! I am very excited to be hosting Day 9 of the Practically Paper Piecing Blog Hop.
This blog hop is all about making things with those orphaned paper piecing blocks that we have lying around. This project started out as a way of using up a few little blocks that I had, but after some non-quilt related googling for an easy Ipod cover, it ended up turning into something a little bigger - but much more fun!
So these were my orphan blocks - cute little teacups made using the free pattern from
Piece by Number.
You can download it
here.
There are 4 different designs to choose from - the one I used was Teacup 1.
Now the funny thing is that my mum showed me a similar pattern a few months ago that my aunty had given her. I remember saying to my mum "why would you bother with that?" This was obviously BEFORE I caught the paper piecing bug! You can see my first paper piecing project over at Jessica's
Blog
- she was my QCA Handmade swap buddy and I really have to thank her for making me try something new and stepping outside my quilter's comfort zone.
Anyways...back to the blocks. My thought with these was to make a set of coasters.
Then whilst googling for an easy Ipod cover tutorial I found
During Quiet Time
- a blog by the lovely Amy Friend. I went for a browse in her little
Etsy
shop and found this gorgeous kit for a retro kettle tablerunner. I just knew it was what I needed to go with my teacup coasters so I snapped it up.
By the way - I also made the Ipod cover from the tutorial on Amy's blog.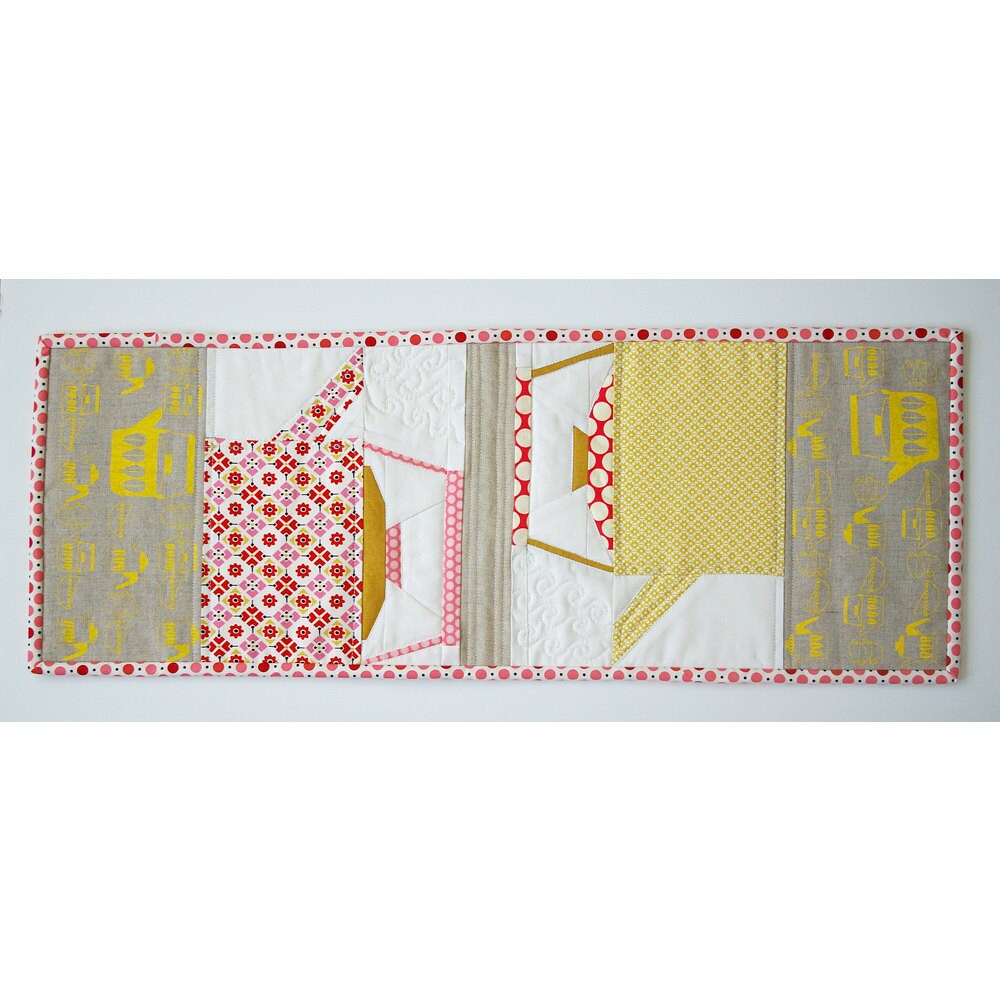 My pattern arrived via email and I got cracking!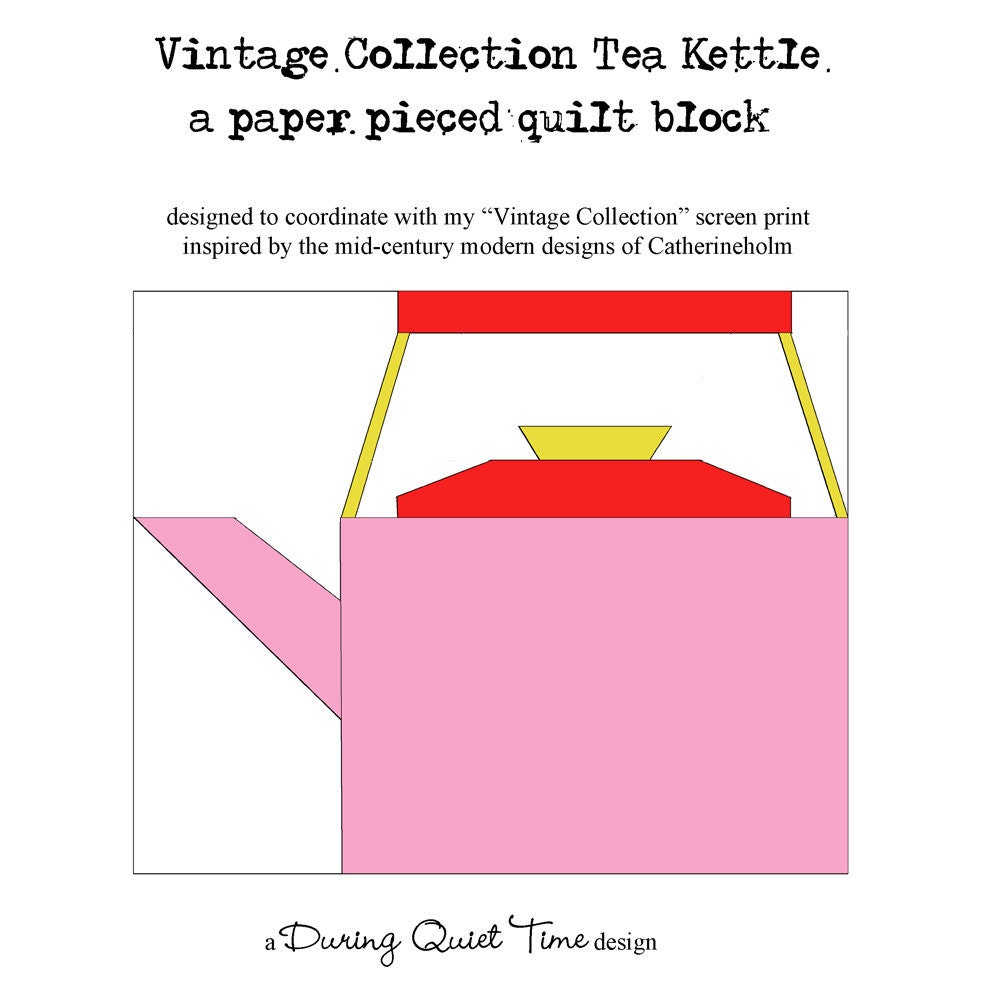 I choose some fabrics in reds by Denyse Schmidt for the handles and the main body of the kettles.
Amy's pattern was straight forward and the two kettles came together in an afternoon at Quilt group. As part of the kit, Amy also sent me some of her handprinted fabric inspired by the retro kettle designs of Catherineholm.
It is such a funky design! And it looks fabulous on the white linen.
So I pieced the runner together, incorporating some linen from the teacups into the centre strip.
Amy suggested that some free motion quilting was in order to add some steam to the kettles. I gave it my best shot! I have to admit that it has been quite a few months since I have attempted any FMQ....I seem to be in a bit of a straight line quilting groove at the moment (see the quilted linen in the top of the pic!)
I have a bit of a thing for spotty bindings at the moment and I am happy to report that I was able to use some binding that was left over from my last QS quilt. There was just enough left to bind the table runner.
Backing
I then turned my orphan teacups into coasters with a bit of red sashing.
I backed them using the Robert Kaufman fabric that I scored a few weeks ago at BigW.
I added binding in fabrics that I had used in the table runner. I then realised that I probably needed more than 2 coasters so whipped up another 2 in blue. And here they are all together -
I am so pleased with the way that this project turned out and it was so fun to do! I am going to give this set to my mum to enjoy on her sunny table in her family room :). I am happy to say that I am well and truly hooked on paper piecing.
Now I have exciting news! I have a copy of Amy's kettle paper piecing pattern to give away!(Thanks Amy :)). If you would like a chance to win, please leave a comment and random.org and I will draw a winner on Friday 31st August. If you are a "no-reply" blogger make sure that you leave an email address so that I can contact you if you win.
:)